#MusicMonday Artist Feature: A. R. the Inspiration
#MusicMonday Artist Feature: A. R. the Inspiration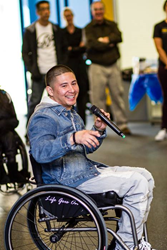 Last month, Each Mind Matters held the very first Music for Mental Health event on the CSU East Bay campus in Hayward, Calif. The event spotlighted talented young artists who use their music as an outlet to help themselves and others overcome mental health challenges and other struggles.
A. R. the Inspiration, or Arthur Renowitzky, was just one artist who shared his encouragement with the audience, and his story was incredible. One night in 2007, he was leaving a San Francisco night club when his life was changed forever. An unknown man stalked him to his car with the intent to rob him, but all he had was $20 in his pocket. The man shot Renowitzky in the chest, and the bullet ricocheted through his body, landing in his lower back and leaving him permanently paralyzed.
Since the shooting, Renowitzky has used his music to help others struggling through difficult situations. He also regularly organizes events to help end gun-violence, and we were honored to have him share how he got through the most trying time in his life. A. R. the Inspiration truly lives up to his name.
Why is music a good outlet for talking about mental health?
"For me personally, it was really therapeutic for me after my injury and being paralyzed and learning I would never walk again or talk again by the doctor, it really affected my mental health a lot. I related back to music and having a background in college for engineering and just music degree. I started going back and listening to music, and really writing about what happened to me. It helped me overcome a lot of the difficulties that I had to deal with from my injury. Music was huge for me and mental health."
What advice would you give to someone who may be struggling with a mental health challenge and wants to get into music or the arts?
"I would definitely encourage, and promote music … Dealing with mental health or whatever you're going through. Just because it's an outlet. It's a way that you can share what has happened to you. Even if you don't even put out the music, you can just use it for yourself as a diary to write. What I do is I love to light candles and dim the lights and write about whatever's going on in my life, and it helps me out a lot in life."
A. R. the Inspiration has two songs featured on the #MillionsLikeMe Music for Mental Health album. Click the link to download the album and hear songs from other young artists from across the state, and check back next week for our next featured artist!