Each Mind Matters Event Round-Up
Each Mind Matters Event Round-Up
Each Mind Matters is working hard this May for Mental Health Matters Month to raise awareness and reduce stigma and discrimination. Every week we will be showing you what people in your communities are doing to speak up and speak out about mental health. Join the conversation and you might see your event right here next week!
Tuolumne County:
Tuolumne County Behavioral Health shared this great photo on Facebook of Supervisors Rodefer and Gray of the County Board of Supervisors wearing lime green ties right before they proclaimed May as Mental Health Month!
Los Angeles County:
Kimberly Tran of Village Academy High School recently organized her own Green Ribbon week to help spread awareness. Her week long events included mental health first aid training with Tri-City and Spread Positivity Day in which students wrote positive messages to each other on a poster. Activities also included a food festival and a mental health awareness booth where students answered trivia questions about mental health.
Santa Clara County:
Neha Tallapragada, an 8th grader at Jane Lathrop Stanford Middle School, organized a "Stigmabusters" walk to raise awareness of the mental health stigma students in her community are experiencing. Neha efforts brought together students, teachers and community members in support of youth mental health on April 29. The idea for the event began when she was asked to complete a project for something she is passionate about, and the first topic that came to mind was mental health!
San Mateo County:
On May 4th, 2015 the San Mateo County Behavioral Health and Recovery Services, Diversity and Equity Council hosted "Stand Up! For Mental Wellness", a community event to share stories of hope and inspiration for recovery. The event was standing room only and included presentations by the county Youth Commission, lived experience digital stories and a poetry reading. There were also resource tables, art displays and a photo booth. Stand Up! For Mental Wellness was a great way to start May is Mental Health Matters Month!
Orange County:
Each Mind Matters attended a mental health fair in San Juan Capistrano last week. We love when our supporters share images from events around the state!
San Bernardino County:
The Mind and Matter psychology club at San Bernardino Valley College held a presentation last week to educate students about the importance of mental health and how to recognize the signs of a friend in need.
New York City: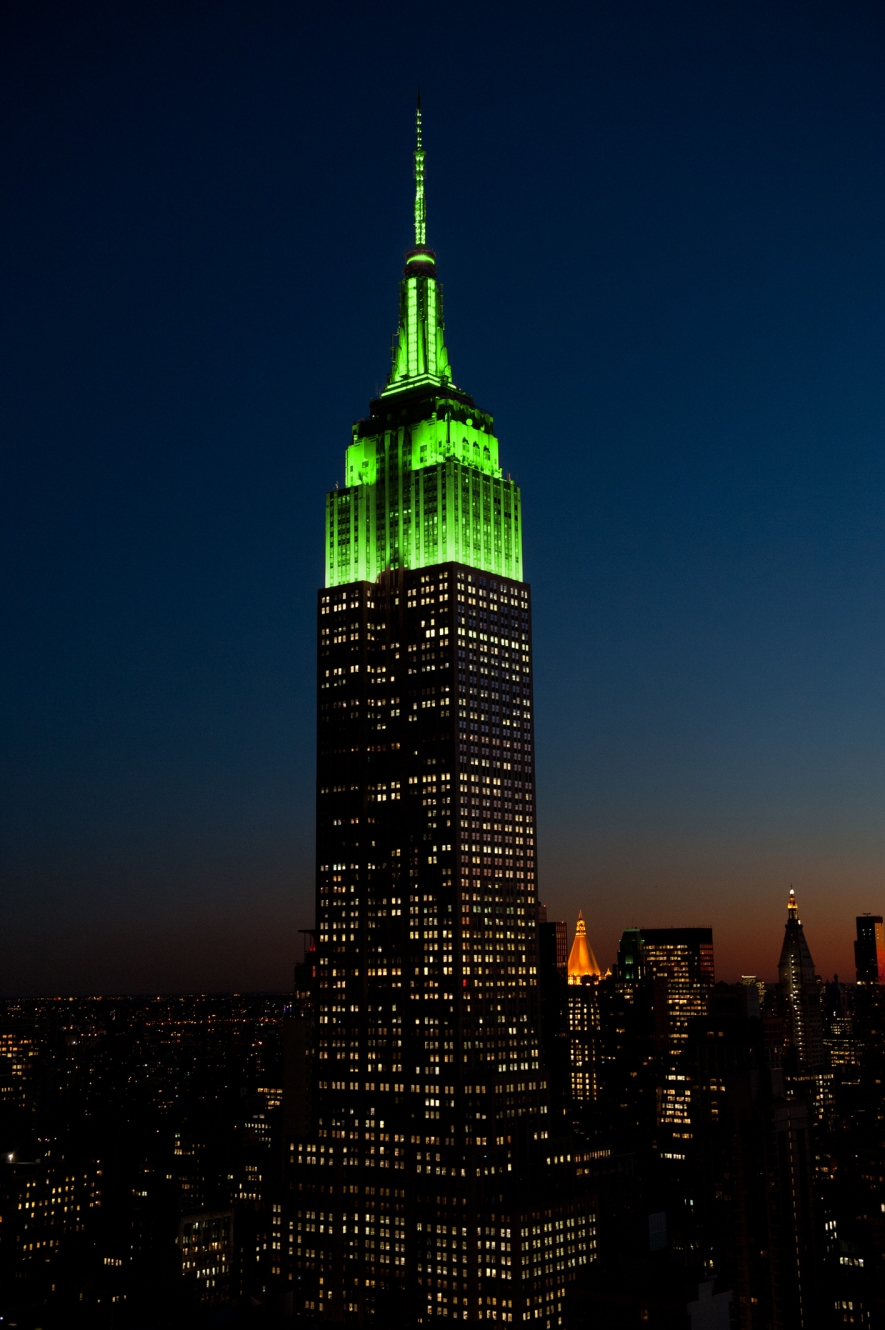 Each Mind Matters is proud to partner with beauty brand philosophy's hope & grace initiative. On May 5, the hope & grace initiative and NAMI helped light the Empire State building in New York City lime green for mental health awareness! Keep an eye out soon for Los Angeles City Hall to do the same to symbolize mental health awareness from coast to coast.
Keep sending us your photos and updates!
---
Mental Health Matters Month Weekly Round Up
Mental Health Matters Month activities are going strong. Here are last week's highlights showing you what people in your communities are doing to speak up and speak out about mental health. Join the conversation and you might see your event right here next week!
San Bernardino County:

On Thursday, May 14, students and community members of Riverside and San Bernardino County came together for a screening and award ceremony for local participants in Directing Change, a student film contest focused on mental health and stigma reduction. The event had a great turnout with about 200 attendees from 11 schools, and awards were presented to films from each county for Best Script, Best Acting and Best Cinematography. Stay tuned for statewide winners of the Directing Change contest later this week!
Yolo County:
UC Davis held a mental health fair on May 13 with the goal to bring together all of the campus' mental health organizations, such as Active Minds, NAMI and Out of the Darkness, to inform students about mental health challenges. Fun activities, educational games and mental health resources were available to all who attended.
Sacramento County:
On Saturday, May 9, Sacramento teens and local organizations gathered at McKinley Park to spread mental health awareness. Jordana Steinberg, daughter of former state senate leader Darrell Steinberg, spoke at the event about her personal struggles and encouraged attendees to reach out when they feel they need support. The youth-organized event, which drew a crowd of more than 100 people, included a selfie station where guests could contribute a photo to the "Wall of Hope" with a supportive message.
El Dorado County:
The El Dorado County Mental Health Department hosted an open house on Wednesday, May 13 featuring a screening of Each Mind Matters' documentary, 
"A New State of Mind."
 About 30 people came through to learn about stigma and discrimination reduction and learn about various resources for people with mental health challenges.
---
Mental Health Matters Month Weekly Round-Up
Directing Change Award Ceremony:
On Tuesday, May 19, student filmmakers from across the state gathered at the Crest Theatre in Sacramento to learn the statewide winners of the third annual Directing Change Film Contest. A total of 420 submissions, representing 1,226 students and 112 high schools, and seven University of California campuses (UC) from 33 counties were received, and students from six high schools and six UCs were awarded for their films. Read our blog to find out who the winners were and watch all of the films!
Los Angeles County:
Committed to reducing the stigma associated with mental illness, Love Infinity, a handmade jewelry company that raises awareness about mental illness and donates a portion of their proceeds to NAMI, hosted a successful fundraiser attended by more than 300 people on May 17 in Venice, Calif. Hosted in partnership with Hustle and Flow, the celebration consisted of a motivating hour-long indoor cycling class followed by an outdoor party with a DJ, food trucks and a photo booth. Westside LA NAMI supported the event and distributed materials about their services and the grassroots work they do to raise awareness about mental health and wellness. Through the support of community partners who donated portions of their proceeds and prizes for the raffle, more than $4,500 dollars was raised.
Lake County:
On Wednesday, May 20,  staff from Lake County Behavioral Health Department held a May is Mental Health Awareness Month Lunch in the park in Middletown, CA. They set up information booths to spread the word on mental health stigma hoping to increase awareness throughout the community. Lake County Behavioral Health Department staff along with the Wellness Center staff from La Voz De La Esperanza, Circle of Native Minds and The Bridge Wellness Centers were all involved in the event.
Ventura County:
Thank you to Rancho Simi Recreation and Park District, the Ventura County Behavioral Health Department, the Simi Valley Hospital, Simi Valley Newheart Foursquare Church, the City of Simi Valley, Rancho Santa Susana Community Center, Conejo Outreach Conference for your efforts this May for Mental Health Matters Month.